The Inventure Way of Teaching & Learning
As at Inventure Academy, education at Inventure PreSchool combines the best of progressive and traditional learning and assessment models. Our teaching-learning process is designed to give children a strong foundation in academics, and simultaneously enrich personal development.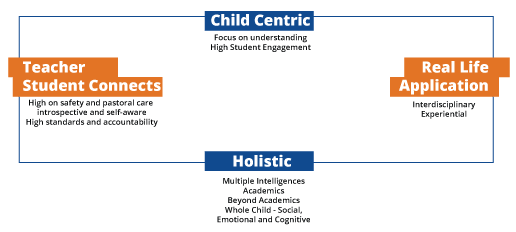 ACADEMICS
Our curriculum, based on Multiple Intelligences, encourages children to continually question why and how things look and function the way they do. Students are given opportunities to practice and enhance each of their inherent intelligences to promote the development of the 'whole child'.
The Pre Primary curriculum is designed to have a sense of wonder and inquiry as the centre of all learning. Blending best practices from various pedagogies like Montessori, Reggio Emilia and Enquiry Based Learning, the Inventure PreSchool curriculum, with learning zones in each environment encourages children to build, play, investigate and experiment to continually test their current understanding. We believe that children learn more from how they are taught than from what they are taught.
BEYOND ACADEMICS
Our Beyond Academics programs are carefully designed to help form strong, capable individuals. Young students are exposed to a variety of sports, music and dance forms and through what are literally fun and games, they develop their decision making, interpersonal, leadership and communication skills. In an environment that fosters an intrinsic motivation to do better each day, students discover and showcase individual talents, pursue special interests, work in collaboration and achieve what they previously thought was impossible. Self-discovery is the wonderful side effect.