A child's mind is open to multiple stimuli. At Inventure, we ensure that from early on, our students are enriched by a breadth of exposure to the real world. Readying them to step out into the multilayered environment of the 21st century with confidence, relevant life skills and a commitment to bettering society. This is what the Wider World Programme is all about: learning for life, not for passing an exam.Through internships, and guest lectures, they experience the diversity of work and professional environments. Through the Changemaker program they discover positive impact-making. Workshops are a fount of learning of different types. The field trips and outbound programmes nudge them to challenge themselves in unfamiliar settings. And the MUN and Round Square Youth Parliament are the perfect vehicle for children to understand the plurality of opinions, perspectives, life choices, inequalities and knowledge that today's world contains.
Inventure Roundsquare & Youth Parliament
Inventure is a Roundsquare member school. Roundsquare is an internationally diverse network of 200 schools in 50 countries on 6 continents. Our partnership with Round Square offers our students the chance to grow through participation in Regional and International Conferences and Student Exchanges. It also gives us the opportunity to offer the 'Inventure Way' to other member schools. In 2018, we hosted the Round Square Youth Parliament – Our World, Our Voice. The conference was conceptualised by Inventure Academy to equip children with the Right to Participate* in the world that they are inheriting and to enable them to be positive change makers. This is an idea that blends the Model United Nations with Model Parliament simulations, giving children a chance to be change-makers in a high level interchange between nations. Delegates witness the journey of resolutions passed in the UN General Assembly and UNESCO to a nation's Parliament. They participate as delegates of the Model United Nations General Assembly or the Model UNESCO, or as members of the Model (Indian) Parliament – Model Lok Sabha or Model Rajya Sabha. This five day event from 15 to 19 August 2018 was held at Inventure's campus on Whitefield-Sarjapur Road, Bangalore.164 students from eight schools across India participated in this event. Inventure conducted a series of workshops by leading experts in various fields, including, cyber security, media & communications, law making, design thinking and data analytics. Inventure students are gathering insights from 5000 students across the country on the issues they face online and what help they need from parents, government, schools, and media. We will translate findings from the surveys into a data-backed, evidence-based charter to present to the Government and the United Nations.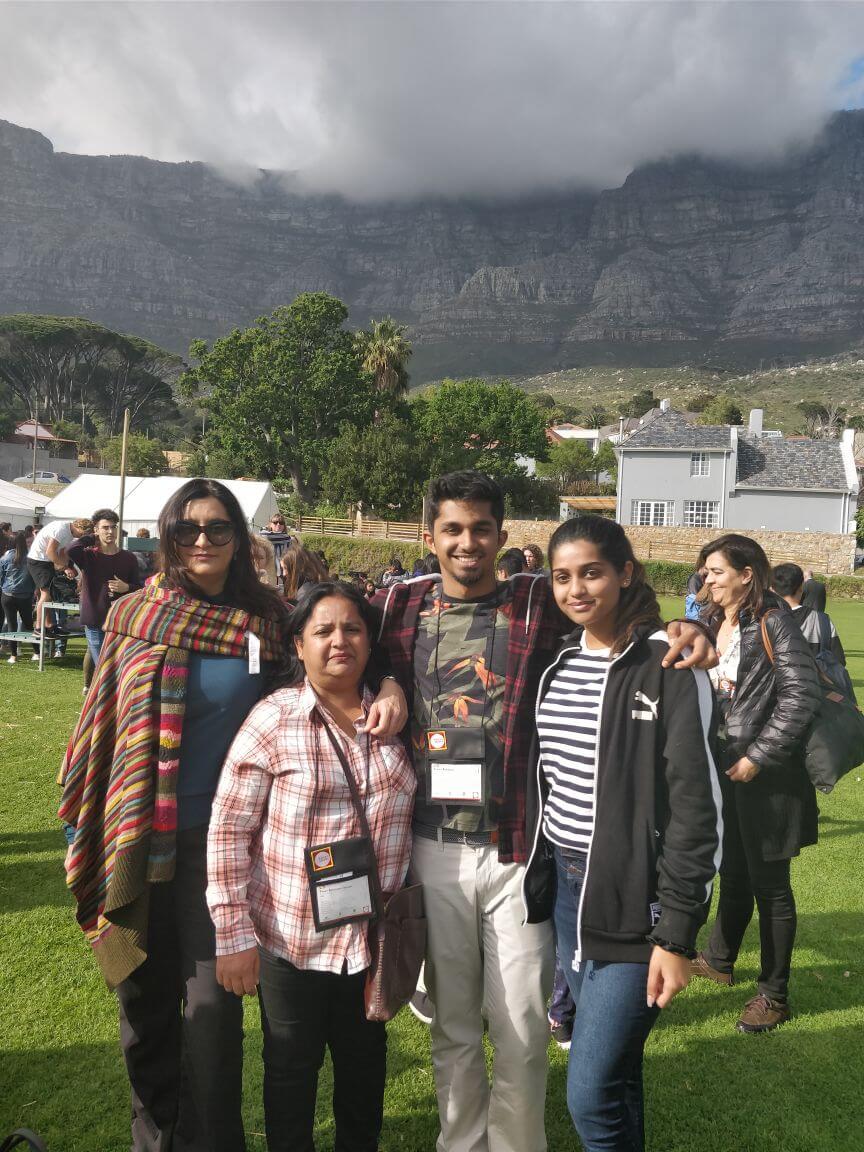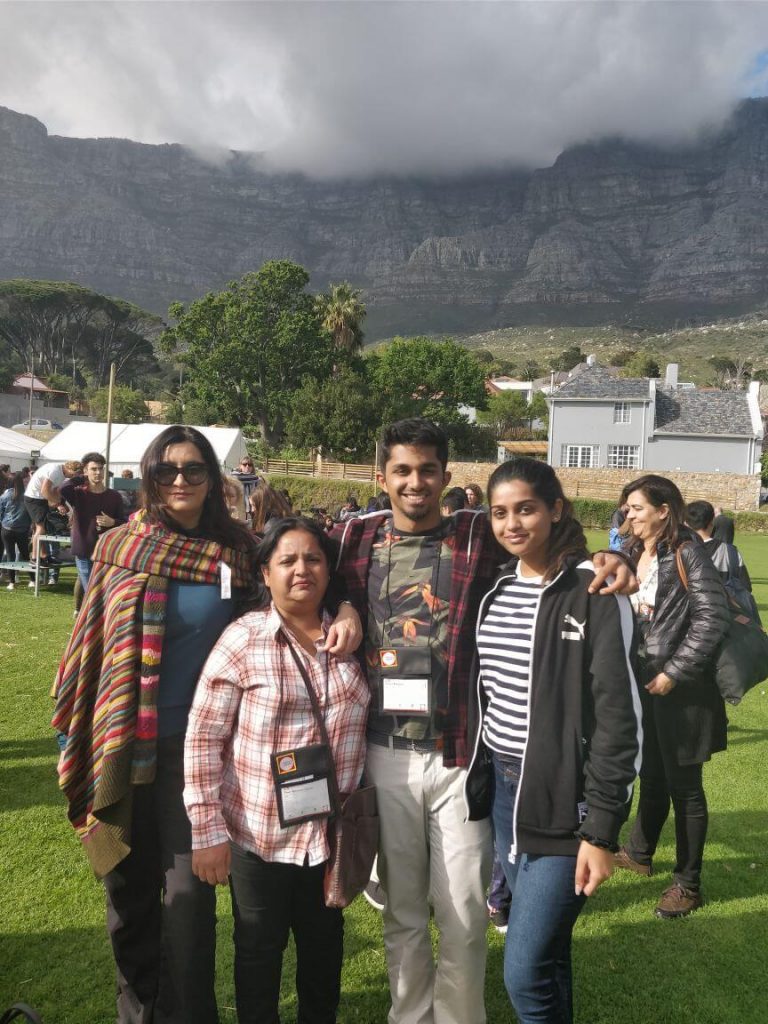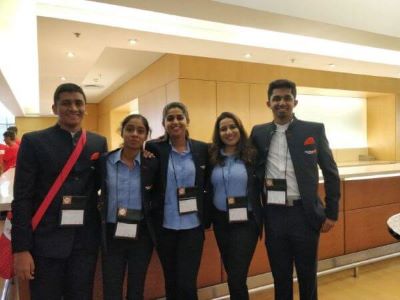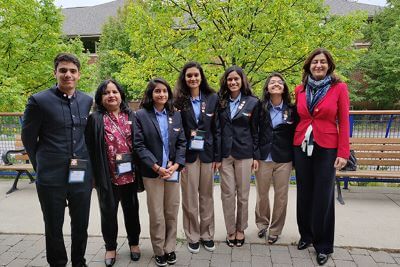 Our goals for the children are:
Achieve important wider-world skills, like communication, collaboration, conflict resolution and negotiation
Appreciate the interconnectedness of the world and how it impacts both problems and solutions – to empathize with others and take a 360 degree view of the problems of all stakeholders
How to gain knowledge of how laws are made and how citizens can have an impact, and coming up with lawmaking solutions that work for all important stakeholders
The importance of media and responsible use of social/media
*(
guaranteed by Article 12 of the UNCRC
)
Inventure Model United Nations
The Model United Nations (MUN) is an excellent way for children at Inventure to engage with the dynamics of international politics, and get an insight into the principles that govern diplomatic conflict resolution between countries around the world. Besides giving them an understanding of the realities and inner workings of current global and local issues, the simulation helps to enhance negotiation, communication, research and critical thinking skills tremendously among participating students. Students don the hats of actual 'delegates' of countries to discuss problems plaguing the nations of the world learning the elements of diplomacy and negotiation along the way. Inventure students have won more than 30 awards at local, national and international MUN meets.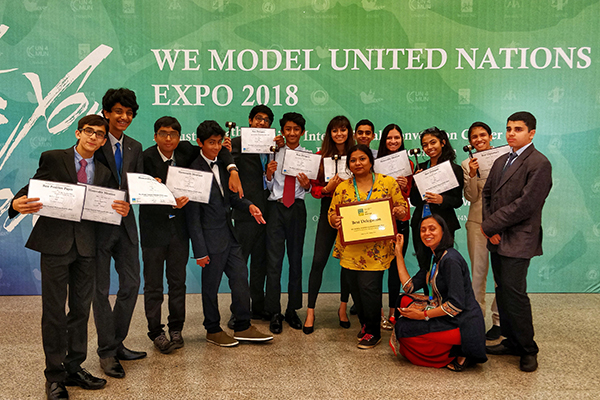 At the Harvard Model United Nations, Hyderabad, we won the Best Delegation Award, and in Beijing we received the Outstanding Delegation Award. Participating in the MUN generates awareness of current events and builds confidence in students, creating a generation of passionate thinkers who are committed citizens of the country and the world. To keep itself relevant, MUN has moved beyond just the traditional committees of the UN, and continually reinvents itself. At Inventure, we work with this dynamic model successfully. In recent years, we have developed our own model of student-led conferences by integrating the Indian Parliament and State local bodies into what we call the Inventure Youth Parliament. Thus students have opportunities for debate and dialogue on not only international agendas, but also on national and local issues.
MUN Achievements by Inventure :
Bangalore MUN, Bangalore, winners in 2010, 2011,2012, 2013, 2014 & 2015
The International School Bangalore (TISB) MUN, Bangalore, winners in 2016, 2017, 2018 & 2020
SISMUN, Chennai winners in 2010
Ivy League, Delhi and Bangalore, winners in 2017 & 2019
Sarla Birla MUN, Bangalore, winners in 2017
Doon School MUN 2021
Harvard MUN winners 2014 to 2019, 2020 and 2021
WEMUN, Beijing, winners in 2016, 2017, 2018 & 2019
Participated and won in the MUN Refugee Challenge 2020 organised by UNHCR in which 20000 students from 80 countries participated. INMUN won the Best MUN award in the category Access to Education for Refugees and our resolution was selected as one of the 8 winning ideas from across the world, that was shared with policymakers during the High Commissioner's Dialogue on Protection.
Changemaker Program
The Inventure Changemaker Program is designed to create a cadre of socially responsible citizens who can advocate, lead and influence social and environmental change. High school students from Inventure use entrepreneurial and design innovations and technology to impact positive change in their neighbourhoods and beyond. A community of academic experts, parent-entrepreneurs & activists, Inventure management and faculty runs the programme. Students have designed solutions that include crowdsourcing information on the quality of our water and rejuvenation of our water bodies, solutions towards our traffic woes, exploring social and environmental issues pertinent to today's youth, improving learning in Government Schools (thus reducing the school dropout rate) through the use of technology and more. The Change Maker Program develops a visible self-belief and passion for making a difference among students. It gives them that crucial glimpse of how the problems that plague society can be resolved; that change might be slow, but it is not impossible.
Changemaker Challenge
Inventure Academy has thrown open the idea of change-making and positive action to high school students from other schools and communities. At the latest Challenge, 48 teams of high school students from across Bangalore submitted their exciting and fresh ideas and proposals to make a dent in socio-economic and environmental issues the city is facing.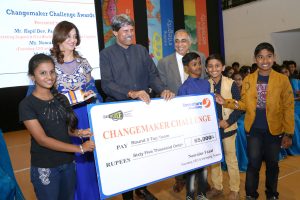 Outbound Programmes
At Inventure, we are constantly nudging our students to make discoveries about the world and indeed, themselves. Outbound trips are a wonderful way for our children to do this, and also learn life skills through pure experience. Our partner for adventure-based learning is INME which designs modules and trips with a theme for each grade. In Class 4, when children are away from their parents for the first time, the focus is on building confidence and awareness of self and your strengths. The next year, there is a smooth segue into teamwork as a theme – and so on progressively. The trips are a remarkable exercise in character building, offering opportunities for children to try new things and express themselves in a safe, protected environment.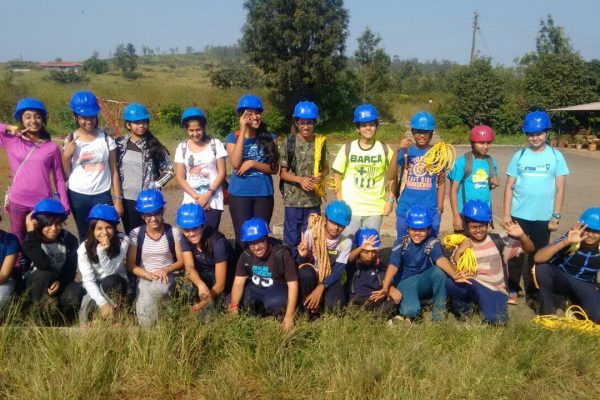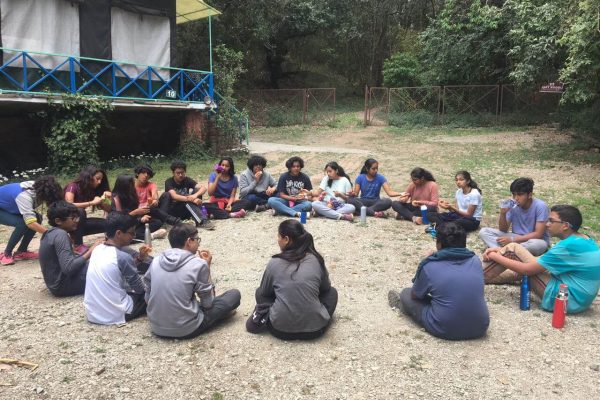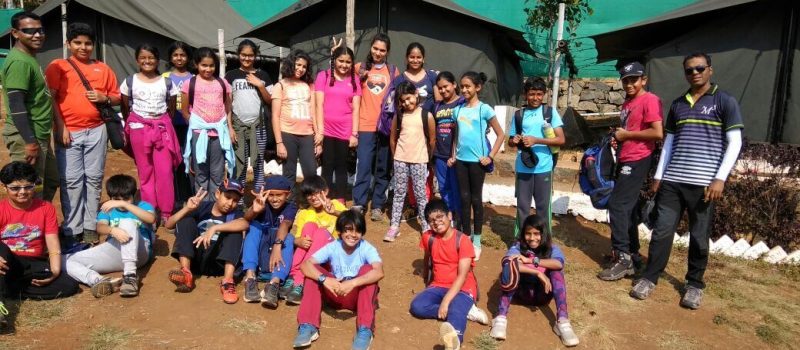 Internships
Complusory for students of Grades 10-12, the Inventure Academy internship programme fosters leadership, interpersonal skills and a glimpse of real-world work. Nothing prepares students for working life and choosing careers better than immersion into an actual workplace, and our programme offers placements in a variety of sites. These include professional, educational, and cultural institutions; community service organizations; legal and medical offices; businesses; arts organizations; and professional performance groups. What each student takes home, besides a letter of recommendation, is a unique and irreplaceable experience, a glimpse into a possible career, touching upon leadership and interpersonal skills, all of which give solid direction and focus to their goals.
To know more about some of the companies our students interned at:
Acuity Knowledge Partners
Amber hearing solutions
ANSR Consulting
Ather Energy
Autophagy Lab at JNCASR, Blr
Bangalore Political Action Committee
Browntree consulting
Civic Studios
Clairco
Covid Fit Club
DKP Architects & Designers
Design Studio Head – Boston Consulting Group
Design Works/ Covie Ventures
DoNew – Quest internship
Dua Associates
Ebay India
Ericsson
Fireside ventures
FoxMandal consulting
Hindustan Times
Inverted Prism

Cell Biology
International Relations
Law
NASA
Psychology
Robotics

Inverted Prism – Data Science
MV Rajeev Gowda
Migrant-Rights.org
Mobilise Asia Africa (Kamal Krishna)
Mu sigma
Mundkur Law Partners
MyBy – Community Commerce
Mynvax Laboratories at IISC Bangalore
People For Animals
Price Waterhouse and Cooper
Purplefront Technologies
Quantum consumer solutions
Quest alliance
RatnyaTraya Investment Firm
Redseer Management Consulting
Research Assistant at UNC Kenan Flagler Business School
Resolve
SolEco Consortium
Store Hippo
Team Indus
Techno Specialist Consulting Engineers
The SportsRush
Triage advisors
Unherd

Law mentorship
Pharmacology mentorship

Uniwealth investment consultants
WNU Investment Services
WRI
We The Young (Oxfam)
Yodaplus
Zero Gravity
Zivame
Agadi Hospital
Agastya International Foundation
Alphonso Inc
Apple- Marketing and sales
Ashwa Mobility Foundation
Assentio Legal
Buzon Pedestials
CSE
Capgemini
Center for Sports Excellence – management
Chhoti si Asha
Cividep
Columbia Asia, Whitefield
Cracker and Rush
Crest Law Partners
Dataval – Editing and Cinematography
Dentalign Orthodontics
District of Vaishali
Dr. Norma's Homeopathic Clinic – Accounting and Stocking
Ensyde (NGO)
Fastah – software interfacing
Foley Designs
Foley Designs
Football Club Bengaluru United
Fortis hospital
Fortune hotel – ITC group
Foundation for the Realization of Economic Empowerment Zambia
Gandhi Medical Hospital Hyderabad
Hippocampus
Hope centre for autism
IOITC
INK Talks
Infinite Souls – theatre
IoTracX – digital marketing
Jaslok Hospital and Research Centre
Kale Nele
Mindtree
Moonraft Innovations
Mu Sigma
My OCD Fighter
NCBS
PARI – People's Archive of Rural India
Plastic Water Labs
Prameya Health
Puma
Red Barron
Rezonant Designs
Sandeepani Academy of Excellence
Satliva
Shadowing Olympic Althete Trainer from Jamaica, Pune
State Health Society
Stem Cell Registry of India
Team Indus
Teen Turks
Tekizma
The Sunshine Stage
Victoria Hospital
nSmiles – mental health and wellness centre
Guest Lectures
Interacting with and hearing from inspirational achievers and experts in different fields can change a young person's perspective for life. Inventure Academy has regular talks by such eminent persons for our students. Children find inspiration from people's life stories, what challenges they face and how they overcome them. Some students extend this opportunity by finding mentors or internship opportunities with visiting experts. Speakers in the past have included Zai Whittaker (naturalist, author of children's books), cricketer Kapil Dev, (former Indian cricket captain), Digivijay Singh (pro golfer), Rajeev Gowda (politician, IIMB Professor), MD Nalapat UNESCO Peace Chair & former editor of TOI), Mr Srikanth Nadamuni (Co-Founder & Managing Trustee of eGovernments Foundation) and Vinod Nambiar, (CEO, Position 2, the on-line marketing firm).
We have also had the privilege of hearing and interacting with Dr. Howard Gardnher, the founder of the Multiple Intelligences Theory in 2012.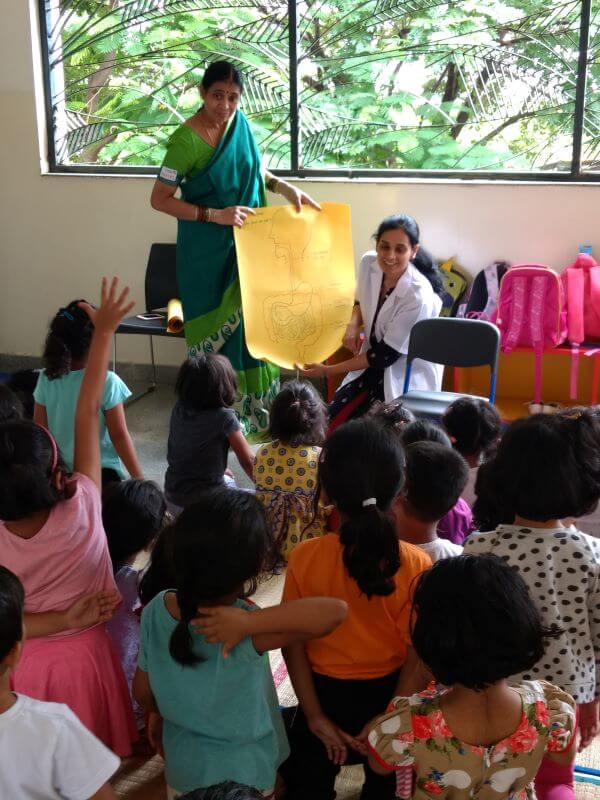 Field Trips
Our firm belief in experiential learning, exposure to diverse influences and fuelling a sense of discovery and curiosity among our children all comes together in our field trips. Students visit local or outstation sites that have relevance to their curriculum in an interdisciplinary way, but also feed into their holistic development as individuals. They see practical applications of classroom contexts. We build lesson plans around these visits and guide students to reflect upon their learning as a follow up, which builds long-lasting impressions. Teachers (and sometimes parent- volunteers) always accompany such groups and take charge of the arrangements, safety and well-being of the group. Bonding, sharing and collaboration are the positive values they imbibe, as well having a lot of fun. Some of the places our students have visited include government schools, animal rehab centres, the National Gallery of Modern Art, and other art exhibits and museums, Bannerghatta National Park, Bangalore School of Speech and Drama, Meterological Office, the HMT Watch Museum, the National Centre for Biological Sciences and more. With INME children go on treks and adventures and test all their boundaries.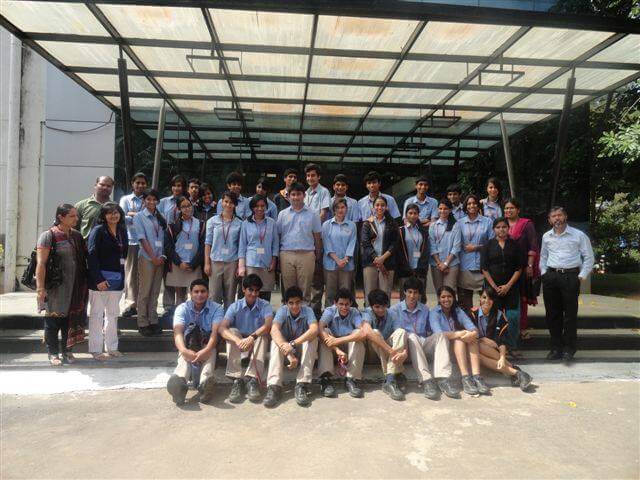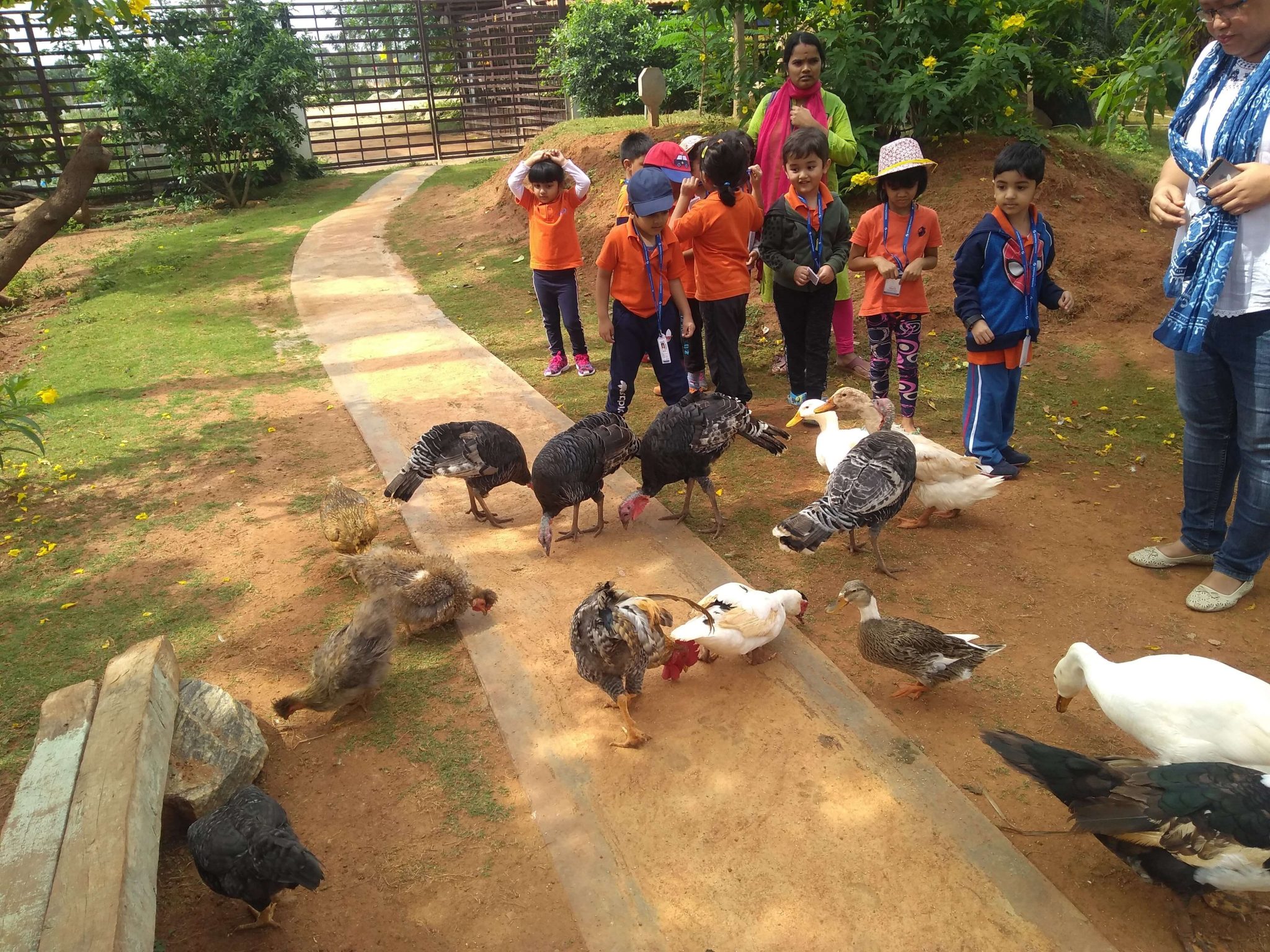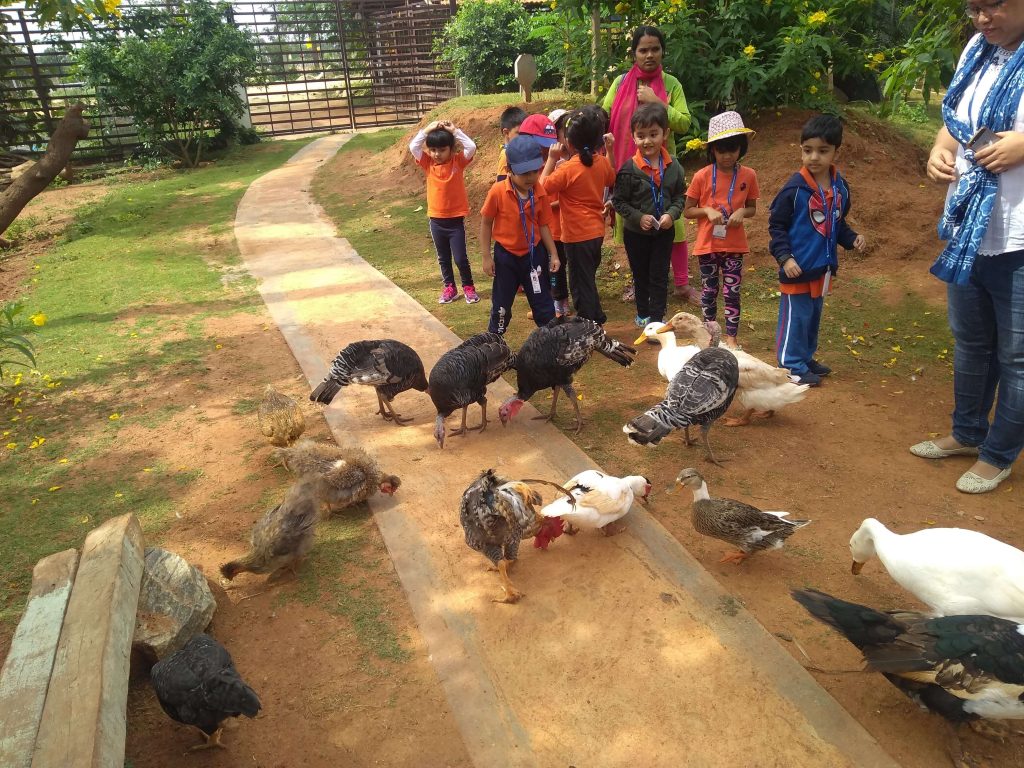 Community Outreach
The Community Outreach program is designed to nurture social responsibility in students and a passion for helping others in their society. It ties in with Inventure Academy's core values of 'Encouraging Sensitivity' and 'Providing Maximum Exposure'. Students of Grade K-12 engage in various outreach activities throughout the year as they heighten their awareness about the communities they work with, develop empathy, understand diversity in human circumstances and create solutions to enable their communities.
Our students acquire the values of compassion, caring and empathy right from Kindergarten. They also imbibe a sense of social responsibility very early on. These ideas translate into an understanding of the diversity of lives and creating solutions to enable communities. Community outreach in the form of engaging with government schools and fundraising is built into the curriculum at every level.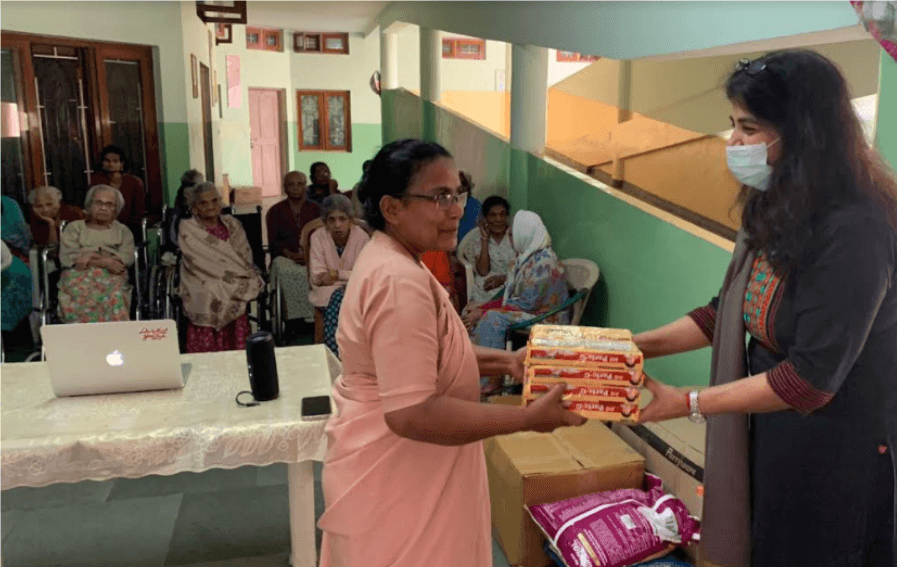 In Primary School, children have an exchange programme with government schools and spend time in each other's schools. From Class 1 – 8, children raise funds for various causes in the community like orphanages and initiatives like 'Adopt a Tiger'. Children in Kindergarten and primary school embark on a journey of learning to be thankful and expressing gratitude to the people who help them. They run drives to collect ration supplies, clothing and more to support old age homes and orphanages around the area. Primary school students also engage in skills projects where they invest time and use their skills to build and create things that are directly delivered to their beneficiaries. Some such products are knitted/crocheted blankets, PreSchool learning kits and math learning kits for children at the Government Schools.
Middle School students are engaged in an immersive community outreach program that helps them to experience and explore pressing problems that they see around them- environment, poverty, health, migration and more. Students take up independent or team community service initiatives to work with people in their local community.
Inventure Academy, in 2019, adopted Government Higher Primary School, Ramagondanahalli with a vision to transform the current school into a Model English-medium Government School. This 5-year commitment with the Department of Public Instruction, Govt. of Karnataka, to work on improving quality of education at Government Higher Primary School, Ramagondanahalli is an opportunity to explore a sustainable way of scaling up the 'Inventure way of teaching-learning' and set it up as a blueprint that can further be shared with other public schools and organizations. Curriculum teams and faculty members at Inventure work closely with the faculty at government school to build a contextually appropriate curriculum for subjects like English and Theme. The professional development team engages to support streamlining of the educational practices at Ramagondanahalli Government School.
The objective of student-driven Senior School Community Outreach Programs is to contribute towards the education of children at Ramagondanahalli Government School and have a positive impact on their learning & overall development. Students engage in one of the many project options like the Reading Buddy, Writing Buddy, Peer to Peer Learning, Girl Up Life Skills Workshops and more. Using small low-cost projects volunteers from senior school help the students at government schools in supplementing their educational curriculum with hands-on learning experience across various subjects. Students from Grade 9-12 work closely with select government schools to run fun projects based on hands-on learning mainly in the areas of English and computer technology. All gross proceeds from the Annual Musical Production go towards our community outreach efforts.

We have also contributed by enabling the Football program run by JustForKicks at Government schools across Bangalore. We hosted the School Football Championship (SFC) for Government schools in Bangalore in 2016, together with JustForKicks' entire Bangalore League and National finals at our campus (running from November 2018 to January 2019). We opened up our facilities for over 800 children from government Schools and provided transport for these students from various locations across Bangalore.
Arogya Bhagya is a health camp for neighborhood government schools. A day-long event, it takes place at the Inventure campus and caters to over 300 students from these government schools. The event sees doctors and volunteers from the Inventure community volunteering their time and expertise to provide medical screening and create medical records (or Kahaaniyans) for these less privileged students.

The foundation of our Wellbeing program lays on the core values of 'Encouraging sensitivity and compassion', 'Nurturing individuality' and 'Providing maximum exposure' that Inventure Academy lives by. Our team, consisting of 4 psychological counsellors, provide our students with individual and group counselling sessions across the school, offering our support on a wide array of social- emotional and behavioural concerns.
Our approach towards wellbeing is more preventive in nature, with most of our initiatives aimed at creating a safe space to talk about mental health, and to build a community where students are open to reaching out and getting the support that they require by a trained counsellor.
Some of our initiatives include:
-Peer counselling program, where a few senior school students are trained to provide basic counselling skills to their peers and bridge the gap between teacher, counsellor and students.
-Wellbeing Wednesdays, a series of short, curated videos to connect with our students on a host of mental health related topics that are the need of the hour.
-Valuethon, a curriculum for Primary school where we aim to expose our students to a range of values that will enable them to become fit for life.
Our counsellors engage in individual counselling sessions on a weekly basis as well as group and circle time sessions to address various behavioural, emotional and study related concerns. Students have access to meeting with the Counsellors for a wide range of issues ranging from study skills, bullying, behavioural issues, anger management, time management, parental concerns and peer related concerns.
Empathy Programme
The quality of empathy can be developed, practised and even taught. Our Empathy Programme instills integrity and encourages sensitivity in our children. The Inventure Academy Middle School Empathy Program has been created to develop a deeper understanding of empathy in students resulting in a generation of responsible citizens and respectful relationships.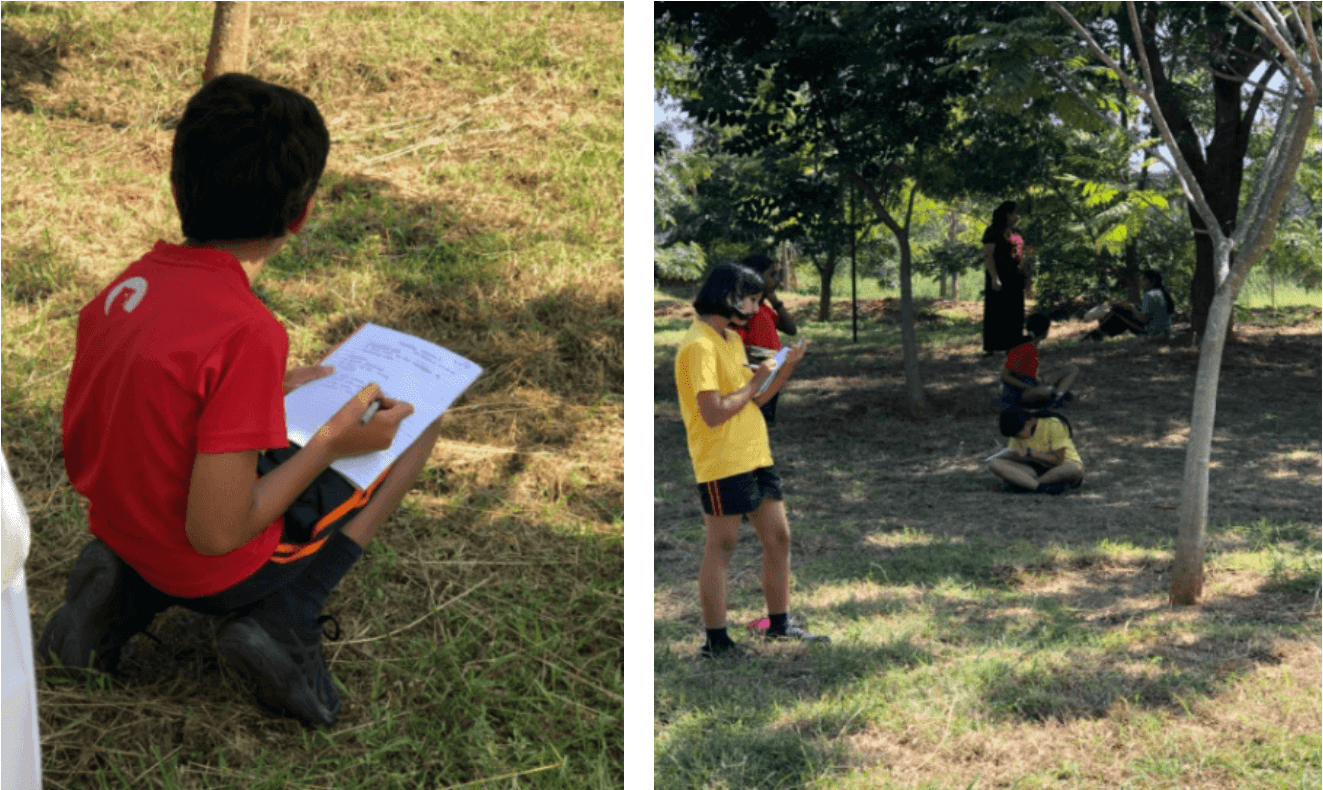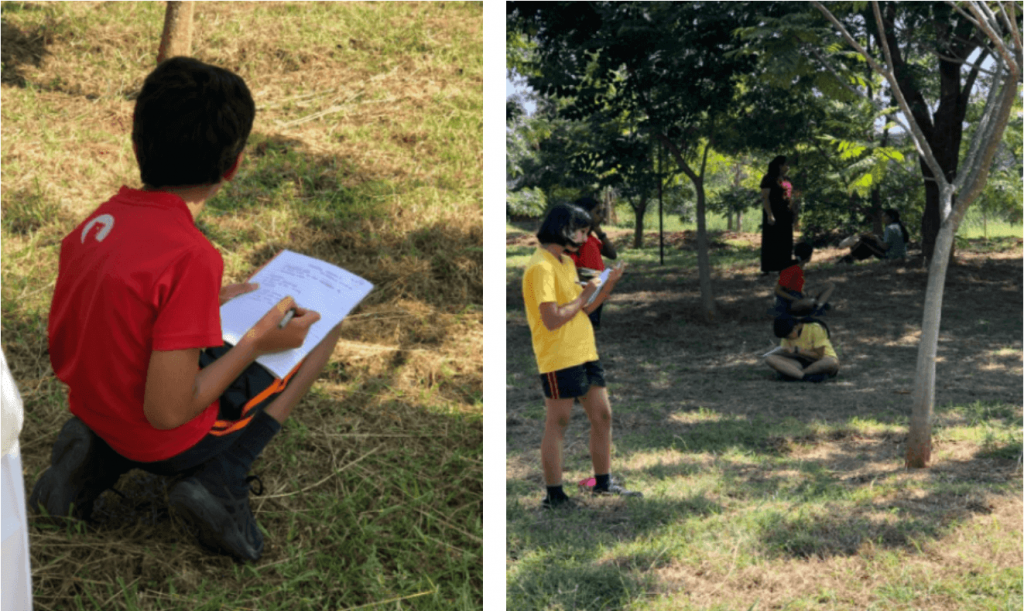 The Empathy Program has two parts:
The Teacher Led Learning portion which is conducted during school hours on Fridays and is in the time-table
An Independent Community Service portion to provide students an opportunity to give of themselves.
A few examples:
Students painted walls to brighten the pediatric waiting room at NIMHANS
Students held a book drive in their community to to benefit their neighbourhood government school
A Grade 6 student adopted a puppy and took care of it for a week until it found a permanent home.